The page may not load correctly.
Dr.Web CureNet!
A solution for remote centralised curing on Windows PCs and servers, including those running different anti-virus software, regardless of local network size.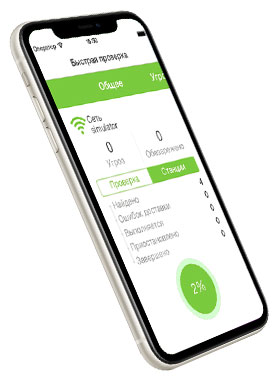 Windows and iOS devices support the launch of the Dr.Web CureNet! Administrative Console and the distribution of curing scanners

To operate, Dr.Web CureNet! does not require a server nor does it require Dr.Web scanners to be installed on Windows machines or servers.

The Dr.Web CureNet! Wizard can be run from any removable media including USB data storage devices.

Dr.Web scanners for Windows are not installed; they are merely launched and then remove themselves at the end of each scanning session. You can disable network access for a target machine while it is being scanned to avoid a recurring infection or to prevent an infection from spreading to other network nodes.
Master
Any PC running MS Windows XP Professional SP2+ / Server 2003 SP1+ / Vista (Business, Enterprise or Ultimate) SP1+ / Server 2008 / 7 (Professional, Enterprise or Ultimate) / Server 2008 SP2+ / 8 and 8.1 (Professional and Enterprise) / Server 2012 / 10 or iPhone 4s, iPod touch 6 or later models of these products running iOS 8.0 or later versions.
Free RAM: at least 360 MB
Free disk space: at least 200 MB
A TCP/IP connection to all target hosts
Internet access: to update the virus databases and components of Dr.Web CureNet!
Scanner
The system requirements for stations are the same as for a computer on which the Administration Console is being run, with the exception of the following:
OS: MS Windows XP Professional SP2 and later, except for the following versions for 64-bit systems: Windows Server 2003 and Windows XP Professional SP2.
No Internet access is required